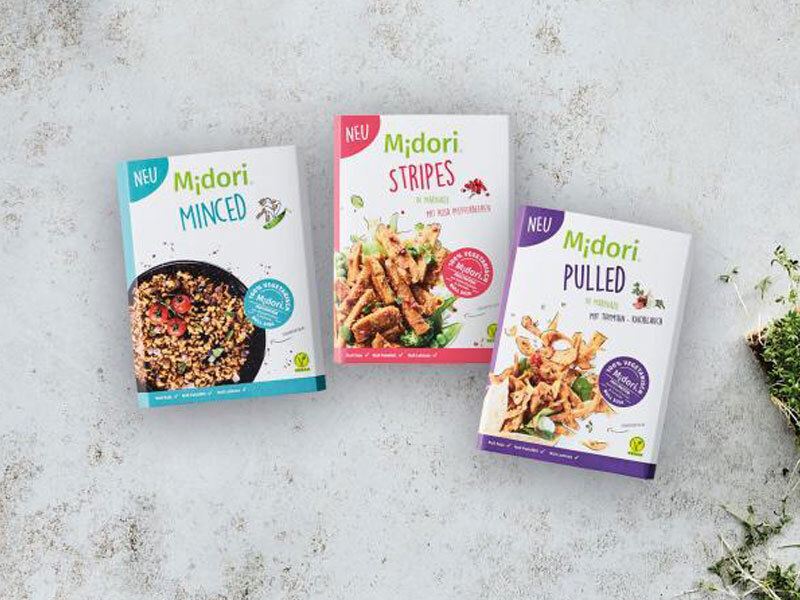 amidori goes on sale across Germany
28.02.2018
Soya-free, sustainable and resource-efficient – M¡dori® range now available online across Germany
After successfully completing its test phase in selected Edeka and REWE stores, the Bamberg-based food start-up Amidori will now start to sell its vegetarian/vegan brand "M¡dori®" online. M¡dori® "Pulled", "Minced" and "Stripes" frozen products are now available on alles-vegetarisch.de, Europe's largest online shop for plant-based products, for 3.89 euros (250 g/180 g) each. M¡dori® is made from natural, locally-sourced plant proteins from pulses such as peas, oats and grains grown in Europe and contains no soya or additives. Up to now, products have only been available in test stores such as the Rindermarkthalle St. Pauli shopping mall. Online sales exceeded even optimistic expectations. M¡dori® products were sold out on alles-vegetarisch.de within just a few hours. This was due to a huge demand across Germany following a report on Bavarian TV. The segment on M¡dori® – which was brought to the market by Amidori founder Friedrich Büse and the Fraunhofer Institute for Process Engineering and Packaging (IVV) after a seven-year research and development phase – was quickly shared online and has been clicked on more than two million times so far.
"We are obviously ecstatic about the response that M¡dori® has received. But we're not surprised," explains company spokesman Christian Kraus. "M¡dori® is a completely new category of product that excites the majority of consumers with its firm bite and excellent taste. We thoroughly researched this as part of what was possibly the largest vegetarian product test in Germany. We gauged the response to our products at street food markets over the course of a year before we started selling our products across the country. 23,000 portions sold means 23,000 opportunities for direct customer feedback. What's more, we have been supplying our B2B partners in various countries for even longer and have been able to gain extensive experience from this."
After the excellent start in Germany, the company – which is currently manufacturing at two production sites with 100 employees – is now looking to launch in further international markets later this year. Soya-free, sustainable and resource-efficient – M¡dori® is produced using hydropower in a purely physical process, exclusively with the aid of heat and pressure and without any chemical additives. Amidori works closely with its partners at each step in the production chain, offering everything from a single source – from cultivation, production of the plant proteins and manufacturing to packaging and marketing its premium products – thus guaranteeing as much consumer safety as possible.
Andreas Traugott Müller
endori food GmbH & Co. KG
Industriestrasse 2
96135 Stegaurach

E-mail schreiben