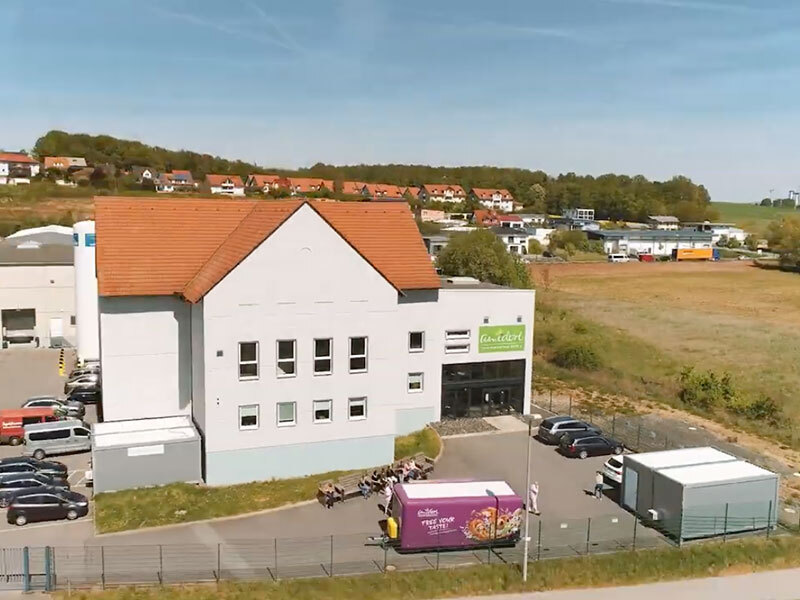 the world will soon be eating a little better
17.11.2016
AMIDORI turns small pulses into amazing vegetarian food
European start-up AMIDORI is proving that healthy, vegetarian and sustainable food can also taste really good with its high-protein dishes, which went on sale across Germany, the UK, Scandinavia and the Benelux countries in the first half of 2017. The snacks and meat alternatives are real bundles of energy. And that's just for starters. Many more products, both sweet and savoury, are in the works. Using environmentally friendly processes, Amidori creates tasty dishes from purely vegetable proteins and fibres, without soya or additives.
M¡dori®: concentrated protein. Fresh from the fields to our protein suppliers and then to our site in Bamberg, with the entire production process using environmentally friendly hydropower. Add in a lot of love and even more peas, lupins and other vegetarian protein packets, using a purely physical process with heat and pressure and voilà: no chemicals, no additives, just M¡dori®. And what's left over isn't just thrown away. AMIDORI works with partners on natural heat insulation and compostable dishes. M¡dori® also contains many important amino acids. A diet rich in protein and amino acids strengthens the immune system and muscles, preserves joint tissue and much more. It also makes you feel full and helps you lose weight. All of these are the benefits of M¡dori®. Collaborative vision.
AMIDORI founder Friedrich Büse developed M¡dori® together with the Fraunhofer Institute for Process Engineering and Packaging (IVV). M¡dori® is manufactured using a special process that the IVV has been researching since 2010 and which the Institute has adapted to the use of local raw materials such as peas. Developing suitable and, most importantly, natural seeds involved a long and intensive collaboration process with the Emsland Group for the cultivation of peas in various regions. From field to fork. Only AMIDORI offers this sustainability promise as all M¡dori® products are vegetarian and produced using 100% local plants from European farming regions. AMIDORI guarantees as much transparency as possible and the highest quality standards at every stage in the production chain. This means AMIDORI customers not only get a great tasting product, they also get peace of mind when choosing Amidori. From breeding, cultivation and production of the plant proteins through to the development, manufacturing and marketing of these premium products, AMIDORI and its partners offer everything from a single source. AMIDORI aims to transform the way we eat into a way of life, thus helping people to eat better and live better. This means making food that, above all, tastes great and provides variety while still improving our health, protecting the environment and ensuring the well-being of animals.
AMIDORI's long-term goal is to offer people an alternative with high-protein food in the form of snacks and meat/dairy alternatives and set new standards for taste and quality. Free your taste. Until the delicious AMIDORI products reach shelves near you, you can come and try their amazing taste for yourself at various street food festivals. These are a great chance to see the endless possibilities for creating delicious dishes that go great with spices from all over the world. You can find all the upcoming dates on our website. The AMIDORI trailer is a treat for the eyes and for the taste buds – you can't miss it. AMIDORI is also aiming to make M¡dori® available in various online shops in the future.
About AMIDORI
Hello, we are AMIDORI. We love good food. And we love life. And these are the two reasons why we founded AMIDORI. We are convinced that good food can also lead to a healthier, better world. And not just for people but for cattle, pigs, chickens and fish, too. For us, good food means 100% vegetarian, 100% tasty and 0% soya. That's why we at AMIDORI make good food using only vegetarian proteins, completely from peas, lupins, grains and much more – all locally and regionally grown in Europe. Founded in Bamberg in April 2015 by Friedrich Büse, we now employ over 50 people and consider ourselves a European company. We operate two production sites: one in Germany and the other in Austria. Our Research & Development team is located at the Fraunhofer IVV in Freising, where we work together with the Fraunhofer IVV on product development.
Andreas Traugott Müller
endori food GmbH & Co. KG
Industriestrasse 2
96135 Stegaurach

E-mail schreiben