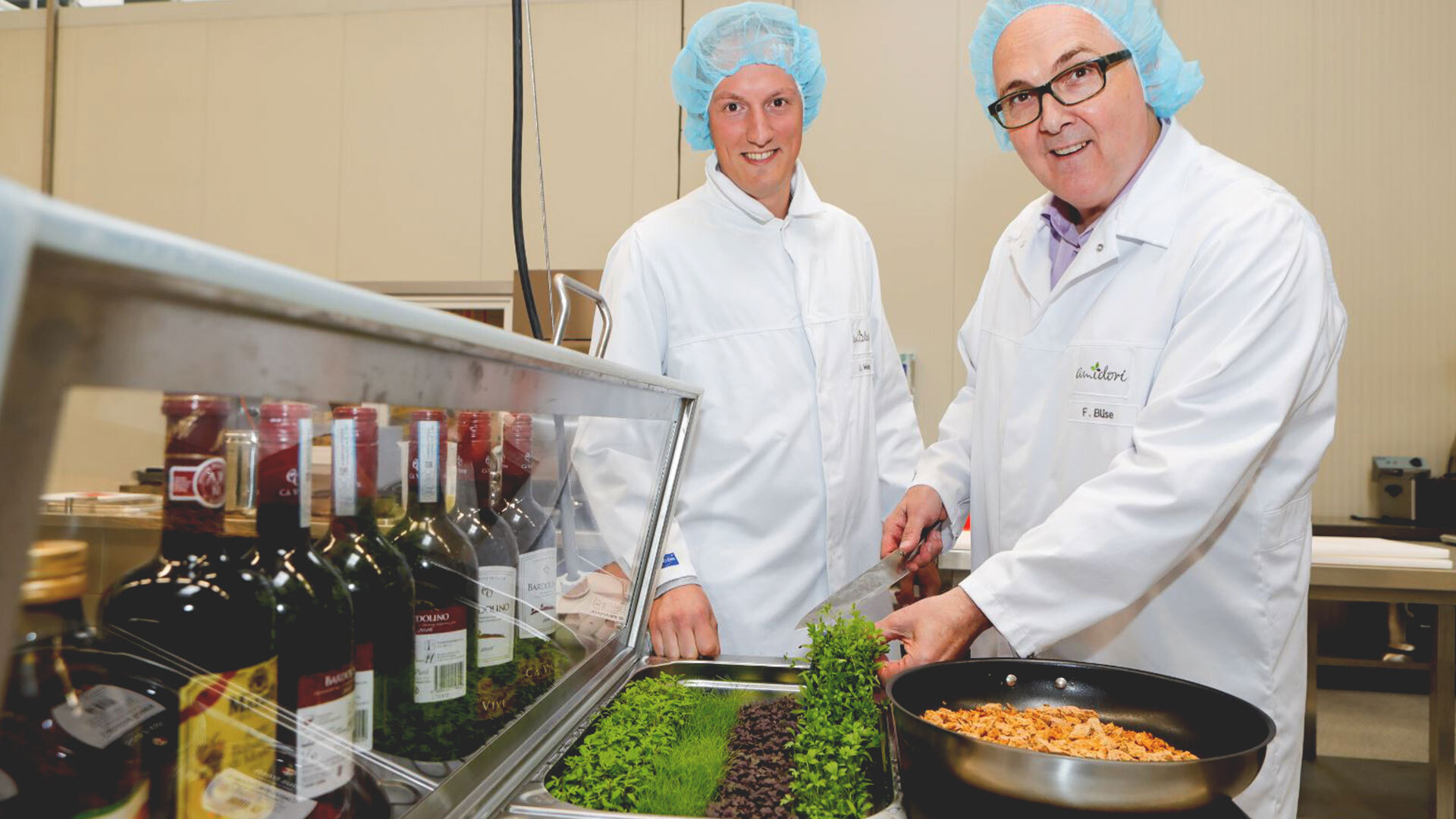 pfeifer & langen invests in innovation leader amidori
15.03.2019
Entry into "plant proteins" future food market: Pfeifer & Langen invests in innovation leader amidori.
amidori, the leading innovator in the 100 per cent vegetarian high-protein food segment, and Pfeifer & Langen Industrie- und Handels-KG are set to cooperate. Pfeifer & Langen Industrie- und Handels-KG is the proprietary company of various leading enterprises within the food industry (Intersnack, Pfeifer & Langen Zucker and Naturkost Übelhör, among others) and has acquired a majority shareholding in amidori.
amidori uses peas and other plant proteins to create high-quality food products with a superior taste and unique bite. The corporate partnership is an investment in the strategic growth market of plant proteins, which hold the key to nutrition of the future: the cultivation of plants such as peas, beans and oats for the extraction of plant proteins is far more resource-saving than the manufacture of animal proteins.
Plant proteins can help fill global nutritional gaps

The nutrition study conducted by the EAT-Lancet Commission entitled "Food, Planet, Health" (involving 37 scientists from the fields of nutrition, agriculture, ecology and economics) proposes that over 11 per cent of a diet with a daily intake of 2,500 calories should be obtained from pulses as plant-based protein carriers. The Commission has issued a healthy meal plan which is also designed to protect the environment and climate. Bill Gates predicted the 'future of food' on his blog on 18 March 2013: "The demand for meat will have doubled between 2000 and 2050. […] There's no way to produce enough meat for 9 billion people." This would be prevented by the economic availability of water, grazing land and feed, he said. Plant-based proteins will help to fill these food shortages.
Amidori is a pioneer when it comes to healthy, delicious vegetarian high-protein foods

amidori founder Friedrich Büse comments: "We have developed a new nutritional category: delicious, plant-based high-protein products which almost everyone can use easily when cooking and preparing food. These constitute a valuable component of nutrition. Incidentally, in the long run it will prove impossible to feed the world population without the use of plant-based protein sources. We manufacture burgers, bolognese sauce and nuggets from raw materials such as peas, oats, sunflower seeds, lentils, beans and grains, and are currently expanding our product range. We use absolutely zero soya! Our products help to ensure that the consumption of natural resources is reduced. And instead of chemical additives, we use entirely new physical processes during manufacture, such as heat and pressure. Even though the taste, texture, mouth feel and bite are almost identical to those of meat, this is not what motivates us. Our inspiration remains our commitment to good food, to people, animals and our earth."

Jens Wedel, Managing Director of amidori: "Global food production lays claim to over 30% of the earth's ice-free surface, 70% of the available fresh water, 30% of the transport sector and 20% of all energy generated. Going forward, sustainable food production requires social and industrial adjustments. From an environmental and nutritional perspective, protein supply is a key issue in this context. It is scientifically proven that products of animal origin have a disproportionately strong influence on the loss of biodiversity, fresh water, climate change and many other areas."
Uwe Schöneberg, Managing Partner of Pfeifer & Langen Industrie- und Handels-KG: "The investment in amidori marks our entry into what is for us a new, strategic food sector with great potential – both nationally and internationally. Plant proteins may well constitute a key solution to address the increasing challenges involved in nourishing the world's growing population. Our corporate partnership bundles our mutual know-how, generating sustainable, integrated and flavourful food production in the future 'plant proteins' market. Both companies adhere to the holistic entrepreneurial approach of the fully integrated value creation chain, living the sustainable principle of 'From field to fork'."
Dr Guido Colsman, Managing Partner of Pfeifer & Langen Industrie- und Handels-KG: "This entrepreneurial relationship offers both sides promising opportunities to develop. It is a strategic business segment in which all the signs point towards growth. Pfeifer & Langen's mission is to consolidate existing and new associated companies with targeted investments, strategically helping these to generate growth. Our principle of independence is continued here. Each associated company is responsible for the management of its own business. This makes them near to the markets, flexible and fast."
The investment in amidori by Pfeifer & Langen Industrie- und Handels-KG is still subject to the condition precedent of approval by the relevant competition authorities.
About amidori

amidori Food Company GmbH & Co. KG was founded by the Büse and Wedel families in Stegaurach, Bamberg in 2015. After years of preparation and an extensive search for suitable raw materials and technologies long before the company was founded, the first vegetarian high-protein products were manufactured in late 2016 and marketed immediately on an international scale (Norway and Sweden). In Germany, Amidori products are available at selected retailers. The company views itself as an innovation leader in the production of plant-based raw materials. It started with the use of the yellow pea, lovingly dubbed the "sun pea", in tandem with other protein sources such as beans, oats, rice and sunflowers. AMIDORI does not use soya, relying instead on a regional four-field crop rotation system.amidori has been advised on this process exclusively by international investment bank Houlihan Lokey.
About Pfeifer & Langen

The Pfeifer & Langen Industrie- und Handels-KG is a proprietary company of leading enterprises within the food and beverage industry. This holding accelerates the long-term, strategic further development of both its investment portfolio and its entrepreneurial partnerships. The portfolio is characterised by well-known brands, trademarks and a strong position within industrial customer business. Companies within the Pfeifer & Langen Group include: Intersnack (funny-frisch, ültje), Pfeifer & Langen Zucker (DIAMANT, Kandis rock sugar), Naturkost Übelhör (chia seeds, quinoa) and Savanna Ingredients (new low-calorie carbohydrates).
Andreas Traugott Müller
endori food GmbH & Co. KG
Industriestrasse 2
96135 Stegaurach

E-mail schreiben