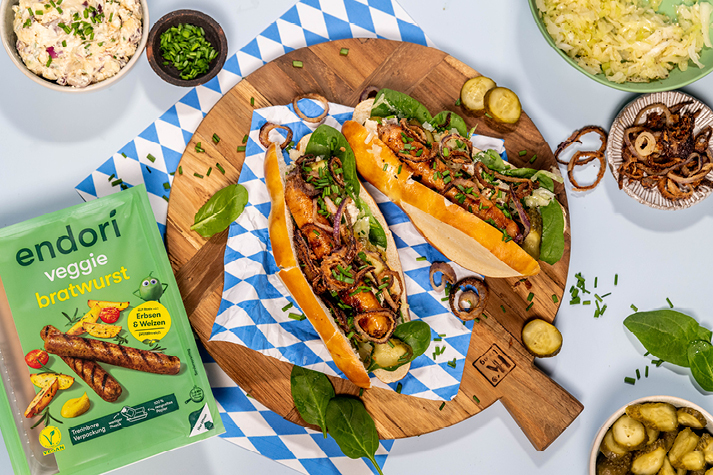 For the Obazda, chop the cashew camembert. Also chop the onion. Chop the chives. Mix the camembert and onions with the cream cheese, add the chives, paprika powder and caraway seeds. Season to taste with salt and pepper.

For the coleslaw, finely slice the cabbage or cut into thin strips and place in a bowl. Mix with salt and knead vigorously with your hands until most of the liquid from the cabbage has collected at the bottom. Then mix with olive oil, vinegar, maple syrup and some pepper.

For the fried onions, slice the onion and then divide into rings. Roll the onion rings in the flour. Heat the margarine in a pan and fry the onion rings in it until crispy on both sides. Drain on a sheet of kitchen paper.

Heat the oil in a frying pan and fry the endori veggie sausage on all sides.

Spread approx. 1/2 tsp mustard on each pretzel stick. Then top each with a handful of baby spinach, some Obazda, coleslaw, finely chopped pickles, an endori veggie sausage, fried onions and some fresh chives.
Bon appétit!
All recipes