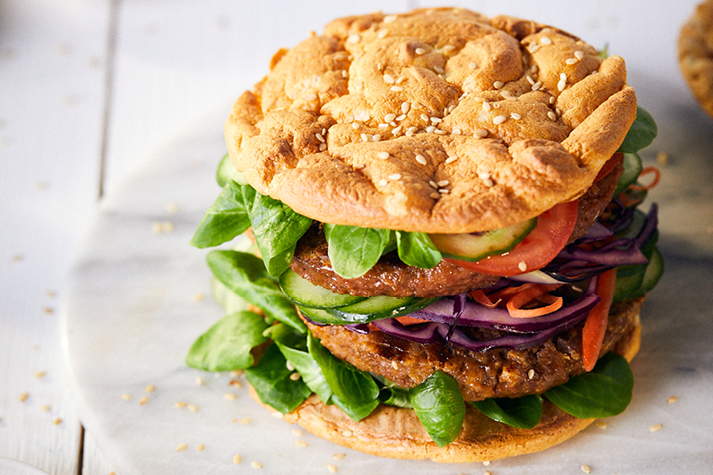 For the cloud bread, separate the eggs and beat the egg whites with a little salt until stiff. Mix the egg yolks with a little sugar, baking powder and 70 g cream cheese and then carefully fold in the beaten egg whites. Divide the mixture into 8 portions in the shape of patties on a baking tray lined with baking paper. Sprinkle the patties with some sesame seeds and bake in the oven at 130 °C for approx. 20 minutes. Then leave to cool completely.

Peel the carrots and slice into fine strips together with the red cabbage. Marinate with the Balsamico Bianco, chopped parsley, salt, pepper and a little sugar and season to taste. Wash the cucumber and tomatoes and cut into thin slices. Wash, clean and spin dry the field salad.

Fry the veggie burgers in a hot pan with oil for about 3 minutes on each side. Spread the flat side of the cloud bread patties with the remaining cream cheese and then top with field salad, raw vegetable salad, tomato, cucumber and 2 fried veggie burgers per burger. Place the second cloud bread patty on top and enjoy.
Bon appétit!
All recipes