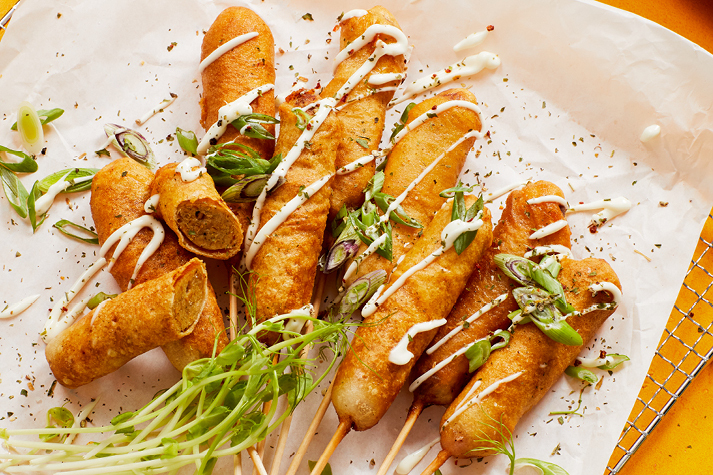 For the dough, combine wheat flour, corn flour, chickpea flour and a pinch of salt. Add oat drink and baking powder and mix until smooth.

Arrange the ajvar in a bowl. Season the yogurt with salt, pepper and the mustard seeds and arrange in a bowl as well. Wash the spring onions and cut into fine rings.

Put oil for frying in a pot and heat. The perfect heat is reached when you press a wooden cooking spoon on the bottom of the pot and bubbles rise to the top.

Dust the veggie mini bratwurst with flour so that the dough holds. Now skewer the floured sausages on long shish kebabs and place in the batter until the sausage is evenly coated, turning slightly if necessary to avoid "noses".

Carefully hold the skewer in the oil for about 3 minutes, turning a little at the beginning until golden brown. Later, when the oil is even hotter, the cooking time is reduced to 1 - 2 minutes.

Arrange the corndogs on plates and finish with the spring onions.
Bon appétit!
All recipes