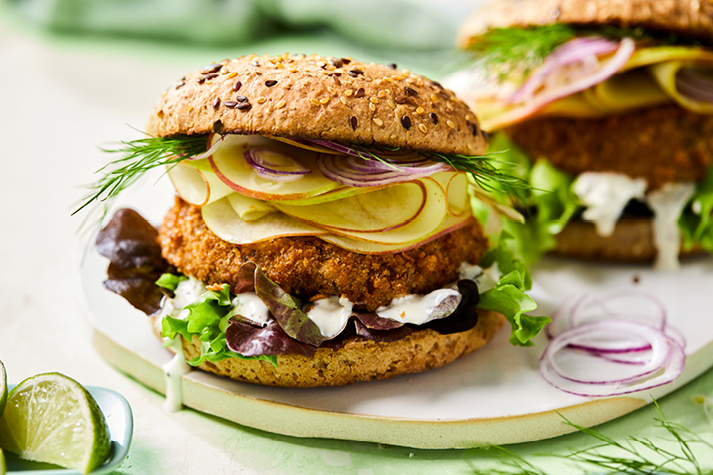 For the chutney, chop the onion and cut into thin rings. Peel the apple, quarter it and cut it into fine slices. Peel the ginger and chop into very fine cubes. Heat oil in a saucepan and sauté onion, mustard seeds, apple and ginger.

Add maple syrup and a little salt, mix well and deglaze with apple cider vinegar. Allow everything to simmer over medium heat for about 20 minutes. The chutney is perfect when it has thickened a bit and the apple slices are not overcooked.

While the chutney simmers, whisk together soy yogurt, finely chopped dill, a squeeze of lemon juice, and salt to make a creamy sauce.

For the burger topping, wash the oak leaf lettuce and pat dry. Cut onion into fine rings. Halve burger buns and toast briefly in grill pan or oven.

For the endori veggie burger di mare, heat enough oil in the pan and fry them over medium heat for 5-6 minutes until golden brown. Alternatively, prepare in deep fryer or oven according to package instructions.

Now top the burger bun with oak leaf lettuce, dill sauce, endori veggie burger di mare, apple chutney and onions. Put the lid on and enjoy!

Tip: Instead of apple chutney, you can also use very finely sliced apples as a burger topping, which have been steeped briefly in a little lemon juice. Otherwise, prepare more of the apple chutney and fill it into nice, airtight jars - a perfect Christmas gift!
Bon appétit!
All recipes