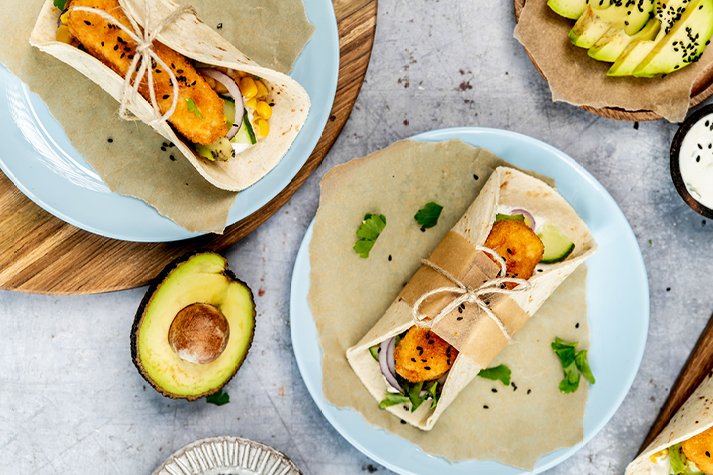 Preheat the oven to 180 degrees convection.

For the tacos, cut the finished wraps into circles using a 20 cm bowl. Hang the circles over a wire rack (for the oven) and bake in the preheated oven for 10 minutes. This gives the circles their "shell shape" and makes them crispy.

Für die vegane Sauercreme die Knoblauchzehe durch eine Knoblauchpresse drücken und mit der Sauerrahmalternative, sowie Zitronensaft, etwas Zitronenabrieb und gehackter Petersilie verrühren. Mit Salz und Pfeffer abschmecken.

For the vegan sour cream, press the garlic clove through a garlic press and mix with the sour cream alternative, as well as lemon juice, some lemon zest and chopped parsley. Season to taste with salt and pepper.

Heat the oil in a pan and fry the endori veggie sticks di mare in it until golden brown on all sides.

Top each taco shell with some sour cream, cucumber pieces, onion rings, avocado wedges, sweetcorn and an endori veggie stick di mare. Top with fresh, chopped parsley and some black sesame seeds and enjoy.
Bon appétit!
All recipes