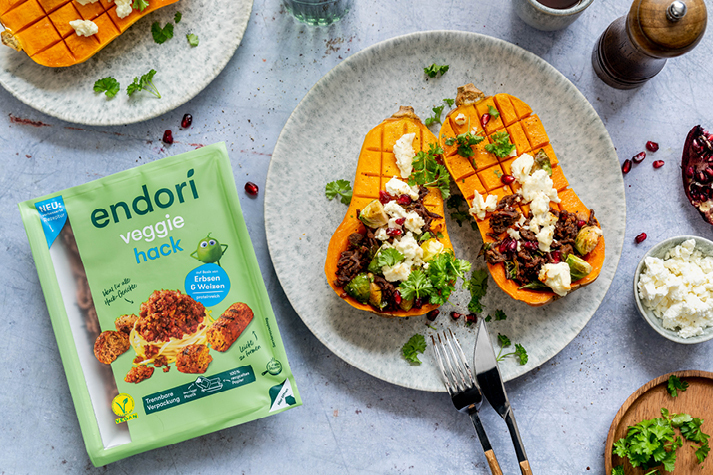 Preheat oven to 180 degrees convection.

Wash the pumpkins, peel with a peeler, then cut in half. Remove the seeds with a large spoon, then score the flesh with a knife. Lay them out on a baking tray with the cut surface facing upwards, brush with a little olive oil and sprinkle with salt and bake in a preheated oven for 40 minutes.

Meanwhile, for the filling, chop the spring onion including the green. Wash the Brussels sprouts, remove the stalk and then cut each into eighths. Remove the seeds from the pomegranate and set aside for the time being. Crumble the vegan feta cheese with your hands and set aside.

Heat the oil in a pan and sauté the chopped spring onions. Add the endori veggie mince, chop with a kitchen spoon and fry as well. Add the chopped Brussels sprouts and fry briefly. Season with paprika powder, chopped parsley and a little salt and pepper. Saute on low to medium heat for 5 minutes with the lid closed and an additional dash of water. Then fold in the pomegranate seeds and set aside until the pumpkins are baked.

Remove the pre-baked pumpkins from the oven and fill with the prepared mince. Spread the crumbled vegan feta cheese over the squash and drizzle each squash with about half a tablespoon of maple syrup. Bake again for about 20 minutes. Then remove, top with some fresh parsley and serve.
Bon appétit!
All recipes