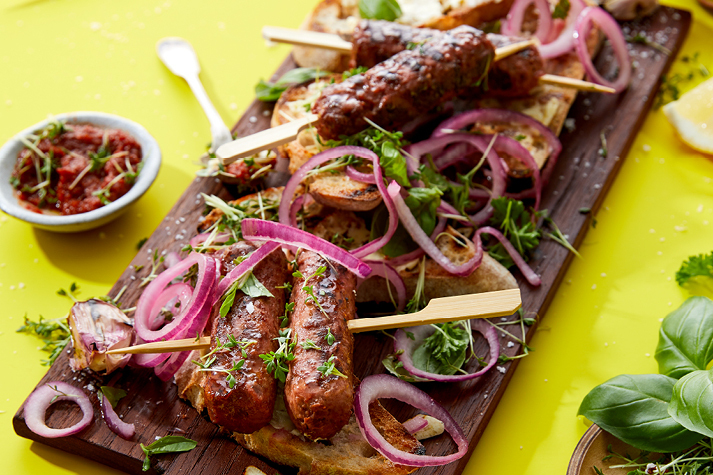 For the pickled onions, boil water, balsamic vinegar, sugar and a little salt once in a pot and set aside. Then peel the onions, slice them into fine rings, and then put the rings into a clean screw-top jar. Pour the still warm broth over the jar, then close tightly and let them cool.

Drain the pickled tomatoes a little and puree them with the cleaned and seeded pointed peppers, tomato paste and garlic. Finally, season the dip with a little salt, pepper and some of the oil from the tomatoes.

To prevent the veggie cevapcici from falling through the grill grate, simply place them on slightly watered wooden skewers and then grill for about 3 minutes on both sides.

Cut the ciabatta into thick slices and toast them briefly on the grill.

Arrange the grilled skewers and grilled ciabatta on platters or plates with the dip and pickled onions.

Pro tip: You can pickle virtually any seasonal vegetable this way! Whether cucumbers, carrots or peppers! Also refine the broth with spices, herbs or chili! Well done it tastes best!
Bon appétit!