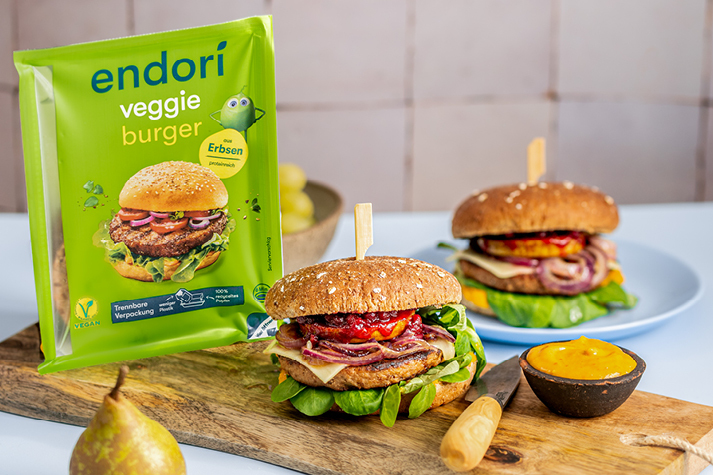 For the pumpkin-grape mustard, cut the pumpkin into small pieces and boil with the water over medium heat with the lid closed until soft. Tip off the excess water and blend with the grapes, mustard, a little salt and pepper using a hand blender until creamy.

Cut the pear into two thumb-thick slices at the thickest part. Cut the onion into rings. Fry both in a little oil on all sides, then caramelise with the maple syrup. Remove from the hot plate and leave to infuse for a while.

Fry the Endori veggie burger in a little oil on both sides. Top with a slice of vegan cheese and set aside.

Fry the burger bread on the inside in the remaining oil of the patties until crispy. Then spread the underside of the burger bun with a little pumpkin-grape mustard. Top each with a handful of lamb's lettuce, an endori veggie burger topped with cheese, a caramelised pear slice, caramelised onions and 1 tbsp cranberry compote. Close with the top of the burger bun. Secure the burger with a skewer for optimal grip and serve.
Bon appétit!
All recipes