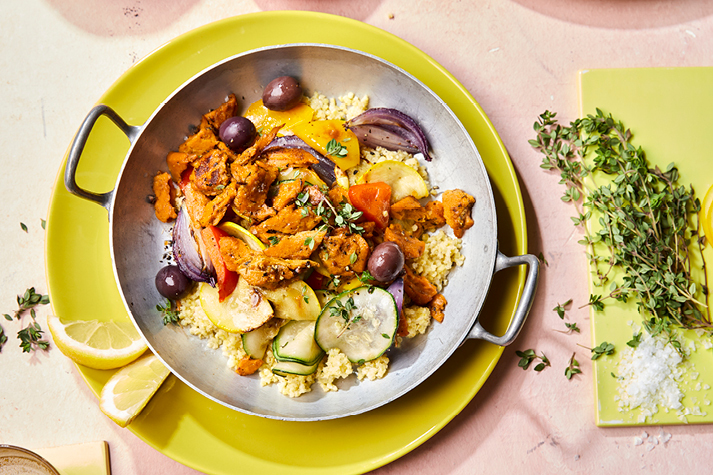 Wash and clean the courgettes, cut them into quarters lengthwise and cut them into 0.5 cm thick slices. Halve, clean and wash the peppers and cut them into 2 cm pieces. Peel, halve and slice the onion.

Heat the oil in a high non-stick pan and sauté the onion, courgette and peppers over a medium heat. Add the curry paste and millet and stir-fry for 1 minute. Pour in the stock, season with salt and pepper. Cover and simmer over medium heat for 8 minutes.

Rinse the oregano and shake dry, pluck off the leaves and chop finely. Lightly fry the olives in a pan with a little oil. Leave the millet to soak for another 20 minutes over the lowest heat, adding a little water or stock if necessary so that nothing burns.

Fold in the oregano, fry the endori veggie pulled until crisp, stir in and serve immediately. If you like, you can serve vegan yoghurt alternative as a dip or sprinkle the millet pan with crumbled vegan feta cheese alternative.bel
Bon appétit!
All recipes