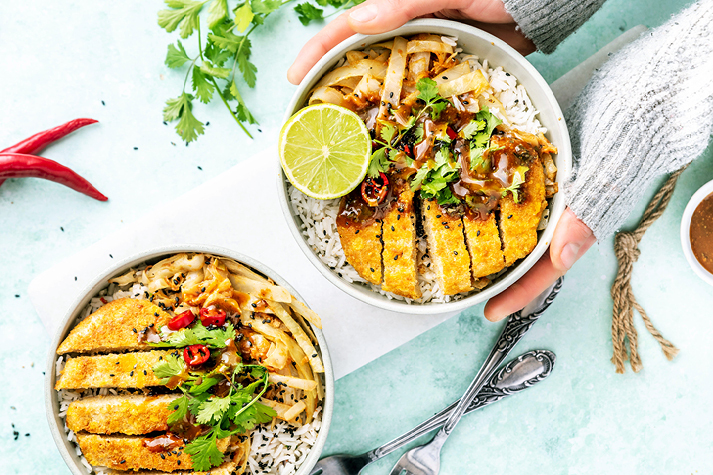 Cook the basmati rice according to the package instructions and strain.

For the white cabbage, chop or shred 1/4 white cabbage. Wash the carrot, remove the ends and also grate finely. Chop the spring onion including the greens and add to the chopped cabbage and carrot.

For the marinade, mix together the peanut butter, soy sauce, harissa and some pepper.

Heat the oil in a pan and fry the marinated white cabbage briefly. Then deglaze with 100 ml water and simmer with the lid closed for 10-15 minutes.

Meanwhile, for the sauce, press the garlic cloves and ginger through a garlic press and mix with the remaining ingredients.

Heat the oil in a pan and fry the endori veggie schnitzel on both sides until golden brown.

Divide the cooked rice, the steamed white cabbage, the sliced cutlets and the sauce between 2 bowls. Drizzle the cutlets with a little lime. Before serving, top with some fresh coriander, sliced fresh chillies and some black sesame seeds.
Bon appétit!
All recipes