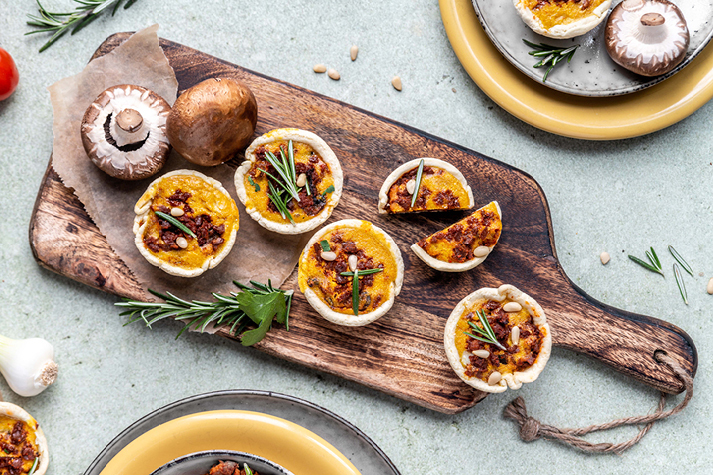 For the shortcrust pastry, knead the flour, margarine and salt into a dough. Add a little water if necessary. Roll out the dough and cut out round circles with a round biscuit cutter or a glass. Roll them out thinly one by one with a rolling pin and then place them in the cavities of a muffin tin.

Chop the spring onion and garlic, slice the mushrooms and chop the dried tomatoes.

Heat 1-2 tbsp oil in a frying pan. Fry the spring onion and garlic until translucent. Add the mushrooms and endori veggie mince and sauté. Add the tomato paste, paprika powder, the pine nuts if desired and a dash of water, mix everything well and fry again briefly. Add some chopped parsley, fold in well and then divide 1 tbsp of the veggie mince filling between the shortcrust pastry cases. If there is any filling left over, spread it on the egg mixture as a topping for the mini quiche.

For the egg mixture, mix the chickpea flour with the spices and blend with the oat drink. Fill the mini-quiche with it.

Bake in the preheated oven at 190°C convection oven in the upper third for approx. 25-30 minutes. Then remove from the oven.

Garnish with some fresh thyme and pine nuts before serving.
Bon appétit!
All recipes