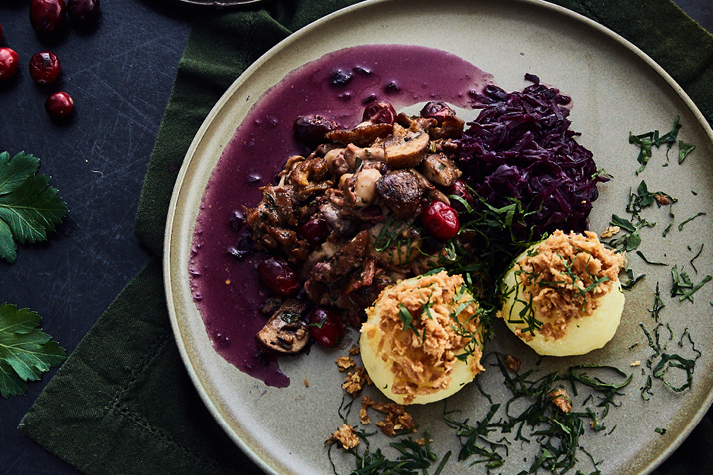 For the ragout, cut the onion into slices. Rosemary from the and chop coarsely with parsley. Heat margarine in a large frying pan and fry the cranberries in it for 3 minutes. Add onions, endori veggie pulled and mushrooms to the pan and fry for 5 min. Add chopped herbs and deglaze with almond cream. Simmer for 3-4 min. on low heat.

Cut the red cabbage into fine strips. Wash the apples and grate coarsely. Heat a large saucepan with margarine, add red cabbage and steam for 3 minutes. Then deglaze with apple juice. Add salt, sugar and apple. Continue cooking over medium heat for 30 min. Stir again and again. Mix cornstarch with a little water and gradually add to red cabbage until it is glossy and creamy.

For the dumplings, cut bread into small cubes. Heat vegetable margarine in a pan and toast bread cubes in it until golden brown. Season with a pinch of salt. Again add vegetable margarine to the previously used pan and fry breadcrumbs (panko or breadcrumbs) in it until golden brown. Form 8 small dumplings from the dough. Place bread cubes in the center and close again. Meanwhile, bring a large pot of salted water to a boil. Cook dumplings in simmering water until they float to the top. Sprinkle dumplings on plates with bread crumbs, serve with shredded meat and red cabbage.
Bon appétit!
All recipes