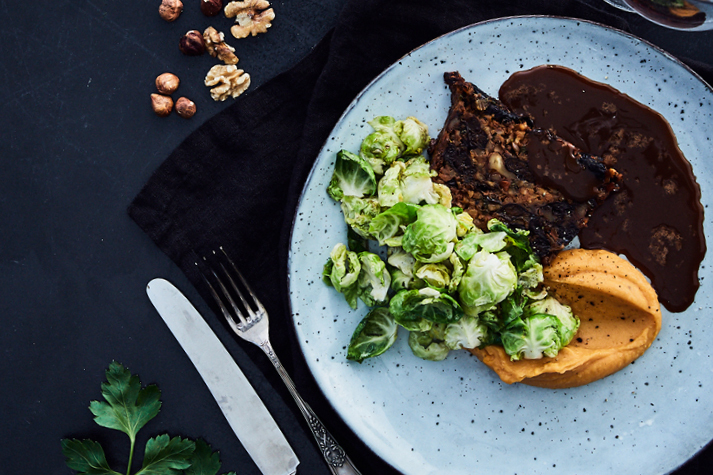 For the roast, preheat the oven to 180 degrees. Finely dice the celery, carrots and onion. Heat a little oil in a medium frying pan and add the vegetables. Steam on medium heat for 3 minutes.

Put the endori veggie hack together with the vegetables in a large bowl. Mix the bread with the vegan cream in a small bowl and let soak for 5 minutes.

Roughly chop the nuts, parsley and prunes and add to the veggie hack vegetable mixture. Add mustard, 2 tablespoons tomato paste, sweet lupine flour and bread and knead into a dough. Season to taste with salt and pepper. Line a loaf pan with baking paper, pour in the dough and bake in the oven at 180 degrees for 40 minutes.

For the gravy, heat some oil in a pot. Add greens and one finely diced onion and steam over medium heat for 15 min. Cut brown mushrooms in half, add to vegetables and saute for another 15 minutes. Add 2 tablespoons tomato paste and sugar beet syrup and simmer for 1-2 minutes. Add red wine and vegetable stock. Simmer for one hour at low heat.

Then strain everything through a fine sieve. Bring the sauce to the boil again. Meanwhile, mix the potato starch with 4 tablespoons of cold water and gradually thicken the sauce until it has a creamy consistency. Finally, season the sauce with salt, pepper and balsamic vinegar. Serve with mashed sweet potatoes and Brussels sprouts.
Bon appétit!
All recipes