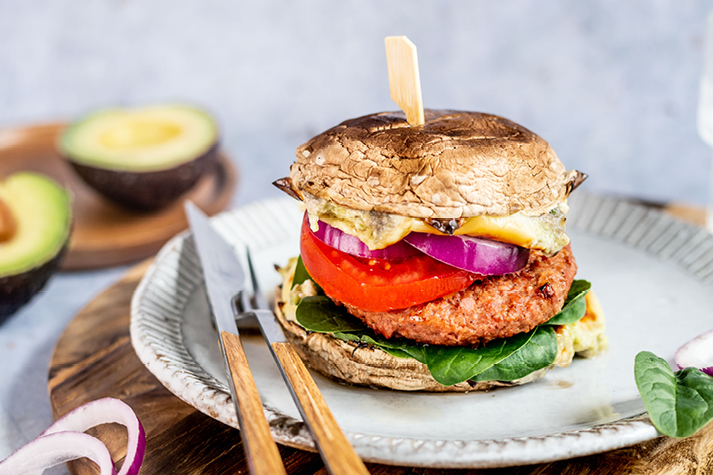 Preheat the oven to 200 degrees convection.

For the mushroom filling, peel the avocado, remove the pit and remove the flesh. Mash it in a bowl with a fork. Mix with cream cheese, lemon juice and a finely grated clove of garlic and season with salt and pepper.

Clean the mushrooms with a damp kitchen towel. Then spread the avocado cream cheese filling on the back of the 4 mushrooms. Top each with a slice of cheese and bake in the preheated oven for 10-15 minutes until the cheese has melted and the mushrooms are slightly soft.

Wash the tomato and cut into slices. Peel the onion and cut into rings. Also wash the baby spinach and pat dry with kitchen paper.

Fry the endori veggie best burger in a pan with a little oil on both sides.

Top a baked mushroom as the bottom burger bun with a handful of baby spinach, a burger patty, tomato slices and onion rings. Top with another mushroom as the top burger bun and serve.
Bon appétit!
All recipes