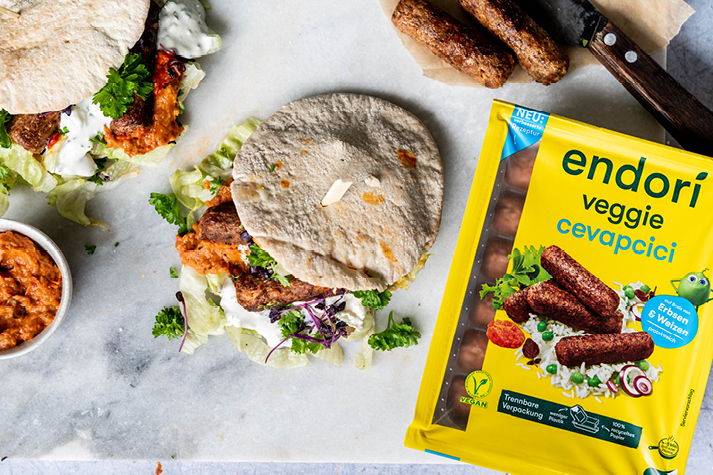 Preheat oven to 180 degrees convection. For the ajvar, wash the peppers and aubergines, remove the stalks remove the stalk and cut in half. Remove the seeds from the peppers. cut the inside of the aubergine with a knife. Spread both on a on a baking tray.

Peel and quarter the onion and place on the baking tray. on the baking tray. Brush the cut vegetables generously with olive oil brush the cut vegetables generously with olive oil, then season with salt and pepper. preheated oven for about 30 minutes. Take out and leave to cool briefly.

Mix the lukewarm, softly baked vegetables with the rest of the ingredients in a blender. ingredients in a blender or with a hand blender. blender. Season to taste with salt and pepper.

For the yoghurt sauce, chop the parsley and chives. chop. Crush the garlic with a garlic press. Mix everything together with the soy yoghurt and season with salt, pepper and a squeeze of lemon juice.

Wash and chop the lettuce.

Fry the Endori veggie cevapcici in a little oil.

Prepare the pita bread according to the instructions on the packaging, then cut open.

Top each with a handful of lettuce, a heaped tablespoon of ajvar, yoghurt sauce and 2 fried cevapcici. Optional top with fresh sprouts and enjoy.
Bon appétit!
All recipes