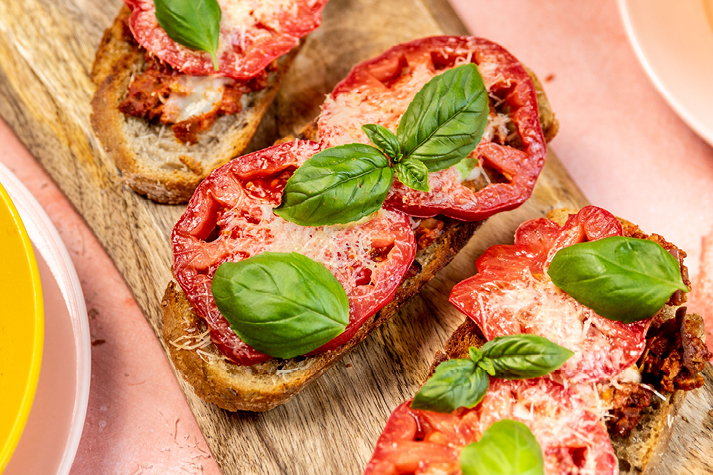 Wash the tomatoes, cut them into slices and place them in a large, shallow bowl, spread out. Pour olive oil, lemon juice and salt over them. Leave to stand for at least 30 minutes.

Preheat the oven to 180 degrees convection.

For the tomato mince sauce, peel and chop the onion and garlic. Heat the oil in a pan and fry both until translucent. Add the endori veggie mince and fry briefly. Then season with paprika powder, tomato paste, balsamic vinegar, salt, pepper and marjoram. Add the strained tomatoes, mix well and simmer for 1-2 minutes. Then remove from the cooker and set aside.

Cut the mozarella or burrata into thin slices.

Spread a thin layer of butter on each slice of bread. Fry briefly in a frying pan with the buttery side down. Drizzle approx. 1/2 tbsp truffle on the top of each slice, then turn the bread slices over and fry them briefly on the other side. Remove from the pan and spread on a baking tray.

Spread the tomato and mince sauce on the bread slices, then top with burrata or mozarella, the marinated tomatoes and Parmesan (alternative) and bake in the preheated oven for 10 minutes until crispy.

Remove the pizza toasts, top with fresh basil and serve.
Bon appétit!
All recipes