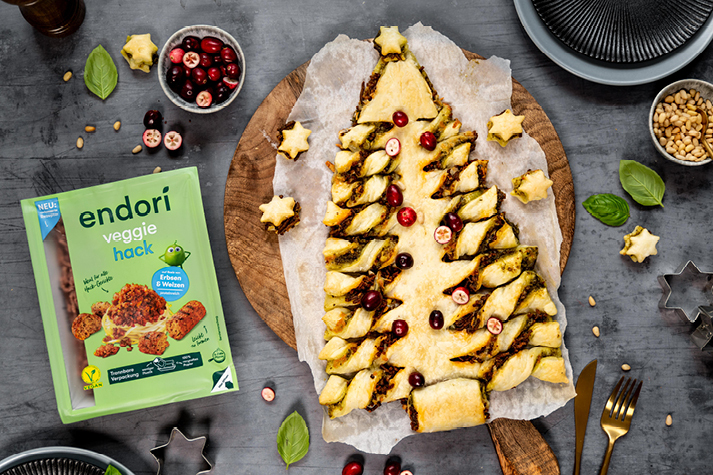 Preheat the oven to 180 degrees.

For the pesto, process all ingredients in a blender or with a hand blender to pesto. Season with salt, pepper and if necessary add a little more garlic powder for the taste.

Chop the spring onion including the greens.

For the mince, heat the oil in a pan and fry the endori veggie mince and the spring onion in it. Season with salt, bell pepper and paprika powder. Chop the parsley and add to the mince. Set aside and let cool slightly.

Lay out two puff pastry sheets on a baking tray and spread the pesto evenly on both puff pastry sheets. Spread the lukewarm mince and the cheese on both puff pastry sheets, then cover each with a second puff pastry sheet and cover each with a second puff pastry and press down lightly.

Cut out fir trees with a sharp-edged knife. Than cut 2-3cm thick strips on the sides of each tree and twist them in. Cut out small stars from the remaining dough and place them on a baking tray. The remaining pieces can be turned in and baked as well. Before baking, brush with some coconut milk, then bake for approx. 20 minutes in the preheated oven.

Garnish with optional cranberries before serving.
Bon appétit!
All recipes