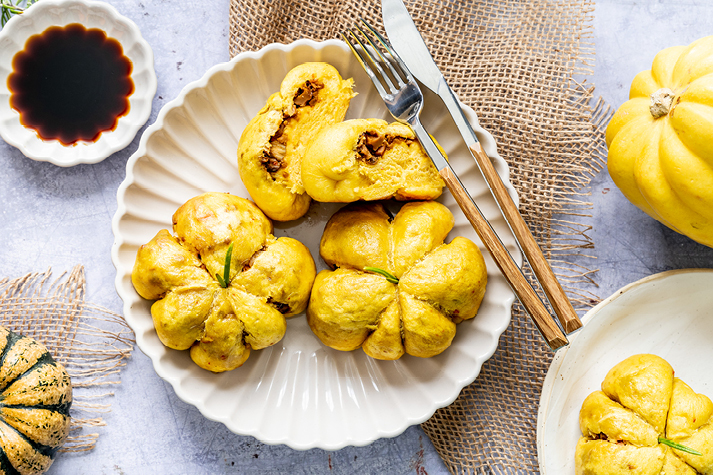 For the yeast dough, preheat the oven to 50 degrees convection.

Heat the milk slightly, then stir in the maple syrup and dry yeast and set aside for 5-10 minutes until it foams slightly.

Combine flour, salt, oil, a little turmeric powder, pumpkin puree and the foamy yeast mixture in a large bowl. Add water gradually and knead into a dough. Transfer the dough to a floured, heatproof bowl, cover with a damp kitchen towel and let rest in the oven for 1 hour.

For the filling, wash the carrot, remove the ends and cut into small cubes. Peel and chop the onion, chop the spring onion including the green, peel the garlic and press it through a garlic press. Cut the shiitaki mushrooms into small pieces as well. Sauté everything together in a little oil in a pan.

Add endori veggie hack and fry as well. Add spices, soy sauce and teriakisauce. Mix in pumpkin puree and let cool slightly.

Divide the yeast dough into 9 parts. Roll each out on a floured work surface into round circles and spread about a tablespoon of the cooled filling in the center of the circle.

Then fold all ends toward the center, press well together, and flip over. Shape into round circles, then tie them off with cotton string.

Heat oil in a skillet. Briefly fry the buns, unsightly side down, over medium heat. Then deglaze with water and let simmer or cook gently for about 15 minutes with the lid closed.

After about 15 minutes, remove from the pan and place on a baking sheet lined with baking paper. Bake for 5 minutes in the oven at 180 degrees convection. Garnish the finished buns with a sprig of rosemary and serve.
Bon appétit!
All recipes