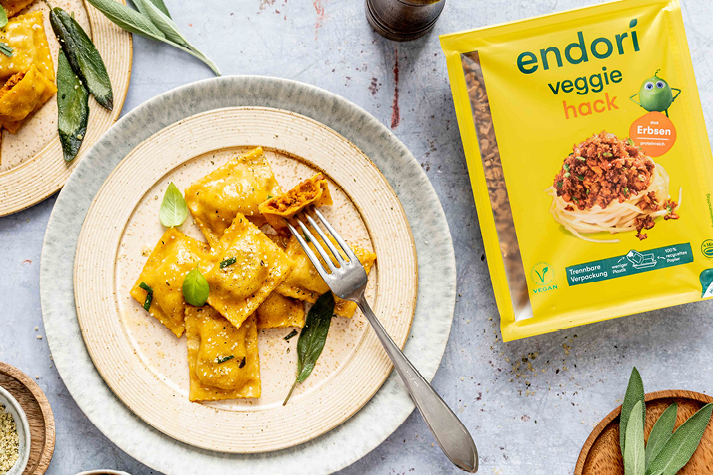 Wash the pumpkin, cut in half, remove the seeds and then cut into bite-sized pieces. Bring some water to the boil in a saucepan and cook the pumpkin pieces in it for about 10 minutes until soft. Then strain. Blend with a dash of soy drink and some salt and pepper in a blender or with a hand blender to make pumpkin puree.

For the pasta dough, knead the spelt flour, whole spelt semolina, 2 heaped tablespoons of the pumpkin puree, olive oil, water and salt into a dough. Add more flour or water if necessary. Set aside in a sealable container for 30 minutes.

For the pumpkin mince filling, chop the onion and garlic. Wash and finely grate the carrot.

Heat the oil in a pan and fry the onion and garlic in it. Add the endori veggie chop and carrot shred and fry briefly. Mix with the pumpkin puree and soy drink, season with salt, pepper and a little thyme.

On a floured work surface, cut the pasta dough into 4-5cm squares about 5mm thick. Spread about 1 tsp of the minced pumpkin filling on a pasta square, moisten the edges of the covered pasta square with a brush and some water, then cover with a 2nd pasta square and press the edges well. Repeat this process with the remaining dough.

Cook the ravioli in lightly salted water for 10-12 minutes until soft. Strain or fish out of the water with a slotted spoon.

Wash and chop the sage leaves. Melt the vegetable butter in a pan with the sage. Add the cooked ravioli, toss briefly in the butter and season to taste with salt, pepper or other spices.

Top with a little vegan Parmesan before serving.
Bon appétit!
All recipes