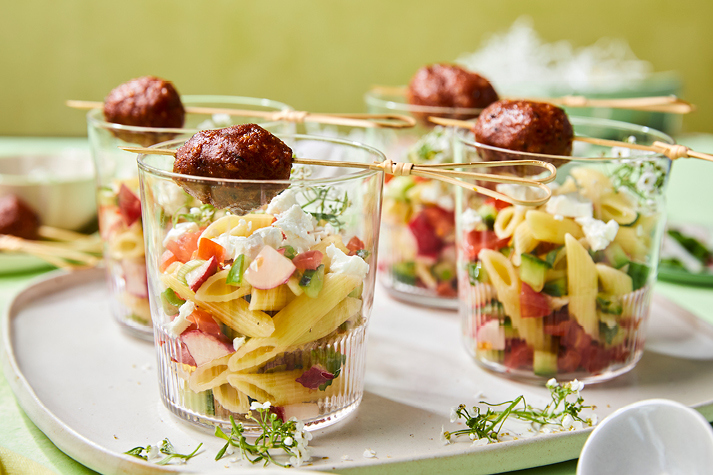 Cook the tortiglioni in plenty of boiling salted water until al dente, pour through a sieve, rinse with cold water and drain briefly. Wash the tomatoes, cut into quarters, remove the seeds and stalks and cut into 1 cm cubes. Drain the dried tomatoes and cut into strips. Peel the garlic and chop into fine cubes.

For the dressing, mix the olive oil with the balsamic vinegar, garlic and parsley and season with salt and pepper. Dice the vegan feta alternative and mix together with the tortiglioni, tomatoes, olives, capers and dressing and arrange everything in a large bowl and serve.

Heat 2 tbsp oil in a large frying pan. Fry the endori veggie balls in batches over a medium heat for 6-8 minutes on all sides. Remove. Caramelise 2 tbsp sugar in the frying fat until golden. Deglaze with apple juice and soy sauce, bring to the boil and simmer for about 6 minutes.

Divide the salad between glasses, skewer the meatballs and serve.

Finely chop the onion, rest of the garlic and parsley and knead in a bowl with the other ingredients to form an even mixture.

Shape the mixture into balls about the size of the palm of your hand.

Heat a little oil in a frying pan over a medium heat and fry the köfte until evenly browned on all sides.
Bon appétit!
All recipes