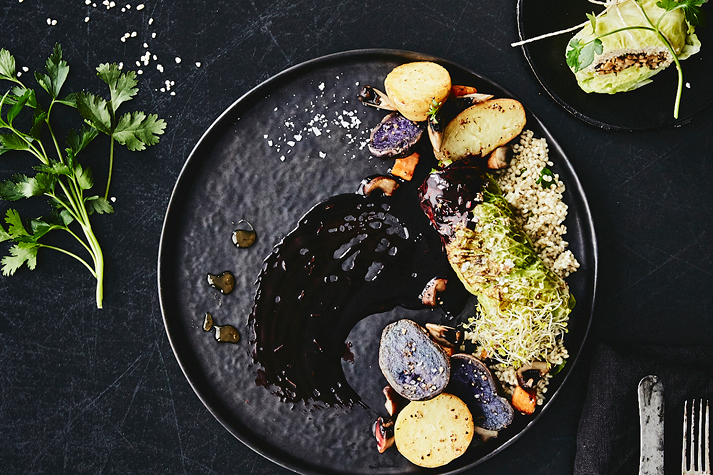 Fill a large pan with water and bring to the boil. Remove the stem of the savoy cabbage and pull away the individual leaves. When the water is boiling, blanche each leaf for approx. 20–30 seconds and then place in ice water. Pat the leaves dry and place on a towel.

For the filling, peel and finely dice the onion. Peel and finely slice the garlic. Roughly chop the mushrooms. Sear the onion with the garlic and mushrooms for 6 minutes. Put in a food processor and blend together. Add the egg and parsley and mix everything together well in a bowl.

For the pearl barley, sauté the onion in butter for 3 minutes. Add the pearl barley and stir constantly for 2 minutes. Deglaze with white wine while stirring constantly. Deglaze with vegetable stock and cook over a low heat for 5–10 minutes until the pearl barley is firm to the bite.

Place the cabbage leaves on a towel and then put the mushroom filling and barley on top. Roll into a roulade and tie up with string. Fry the roulade on both sides in a hot pan, place in an ovenproof dish and cook in a pre-heated oven at 180 degrees for 15 minutes. In the meantime, halve the potatoes and fry in the pan for 10 minutes.

For the sauce, add the red wine, honey, beetroot juice and butter to a small pan and bring to the boil. Leave to reduce until the sauce thickens. Heat the remaining pearl barley with a little butter and the chives and put on a plate. Take the roulade out of the oven and remove the string. Place on top of the barley and garnish with potatoes and sauce.
Bon appétit!