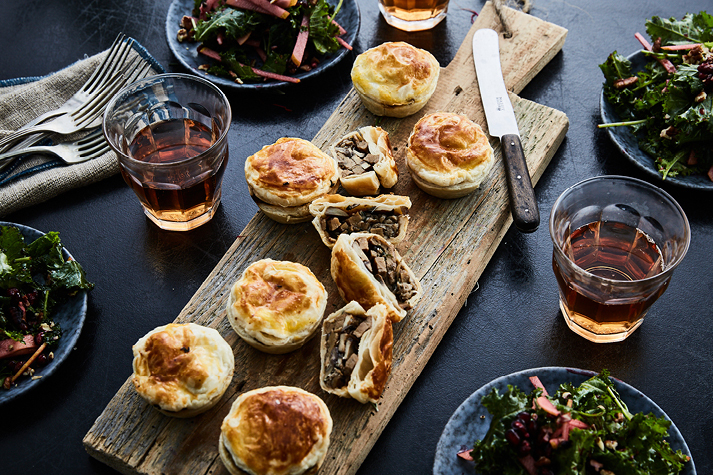 For the tartlets, preheat the oven to 190 degrees. Slice the onion, finely chop the garlic. Pluck rosemary and thyme and chop finely. Heat a pan with oil, sauté garlic and onion for 2 - 3 minutes over medium heat. Add enoki mushrooms and endori veggie pulled and saute for 4 minutes. Add rosemary and thyme, deglaze with vegetable stock and simmer on low heat for 3 minutes.

Roll out puff pastry and cut out 16 - 20 small circles with a tartlet mold (or cup) about 7 centimeters. Grease the molds, place one pastry circle in each and press to the edge. Pour in the stroganoff filling, place another dough circle on top and press the corners of the doughs together. Separate the egg and brush the tartlets with egg yolk. Bake on a baking tray for 15 - 20 minutes at 200 degrees in the oven until golden brown.

For the salad, toast pecans in a pan without fat. Wash the kale and pat dry, chop. Cut the pomegranate in half and squeeze by hand. Remove the seeds and remnants of the white skin remaining in the juice. Mix the pomegranate juice, vinegar, mustard, oil, salt and pepper to make a dressing. Slice the pear with a peeler. Mix the salad with the dressing in a bowl. Then divide among plates and garnish with the pear, a few pomegranate seeds and pecans. Serve the salad with the stroganoff tartlets.
Bon appétit!
All recipes