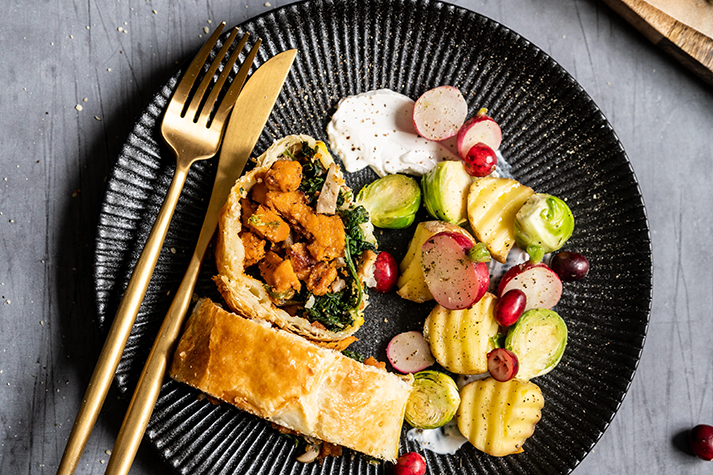 Preheat the oven to 180 degrees convection.

For the vegetable garnish, wash the radishes, potatoes and Brussels sprouts and cut into bite-sized pieces.

For the marinade for the vegetables, mix together the oil, maple syrup and spices. Mix aswell all together and place in an ovenproof dish with the chopped vegetables. Bake in the oven for 35-40 minutes.

For the mushroom and spinach filling, chop the shallot. Wash the mushrooms and and cut into small pieces. Finely chop the parsley. Squeeze the defrosted frozen spinach with your hands so that the liquid escapes.

Heat 1 tbsp oil in a pan and fry the shallot until translucent. Add the mushrooms and fry briefly. Then add the frozen spinach and cream cheese, mix well and refine with the spices and chopped parsley. Pour the mixture into a kitchen sieve and press out the remaining liquid with a spoon so that the puff pastry does not become soggy during baking.

Heat 1 tablespoon of oil in a pan and fry the endori veggie pulled thyme garlic in it until crispy.

Roll out the puff pastry. Cut a strip approx. 5-6cm thick on the short side of the puff pastry and cut out stars with a star-shaped biscuit cutter. Spread the mushroom and spinach filling, as well as the fried endori veggie pulled in the middle of the pastry, leaving 3-4cm free to the edge of each. Then fold the edges of the long side towards the centre and press together. Fold the ends of the narrow side down once. Spread the cut-out stars on the puff pastry. Brush with a little coconut milk and bake in the preheated oven for about 20 minutes with the oven vegetables.

Serve the vegetables and the vegan Beef Wellington together and enjoy.
Bon appétit!
All recipes