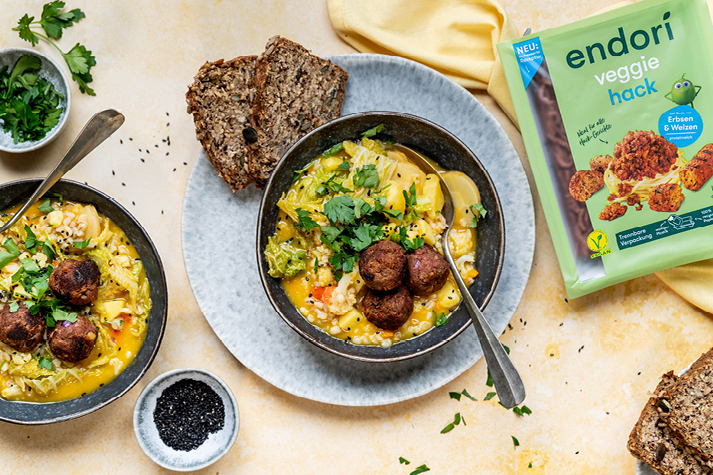 Wash vegetables thoroughly. Finely chop the onion, slice the parsnips and cut the pumpkin into bite-sized pieces. Divide cauliflower into small florets. Remove hard stalk from savoy cabbage leaves and cut into strips. Peel potatoes peel and cut into bite-sized pieces.

Heat the oil in a pot and fry the onions until translucent. Then add the flour, mix well and deglaze with water. Stir in vegetable broth powder, add potatoes, pumpkin, parsnip, cauliflower and rolled barley. All this is left to simmer with the lid closed for 10 minutes. Then add the chopped savoy cabbage, mix everything well and simmer again for about 10 minutes. Stir in the oat casein, season with the spices season to taste and leave to simmer on the stove top with the lid off.

Chop the onion for the meatballs. Crumble the chestnuts with your hand. Mix onion and chestnuts with endori veggie mince, bread crumbs and the spices to a mass. If the mixture is too dry, add a add a dash of soy drink. Form 12 round balls from the mass. Then fry them in plenty of oil in a pan from all sides

Serve the stew together with the meatballs, and add some fresh presilie and black sesame oil as a topping.
Bon appétit!
All recipes