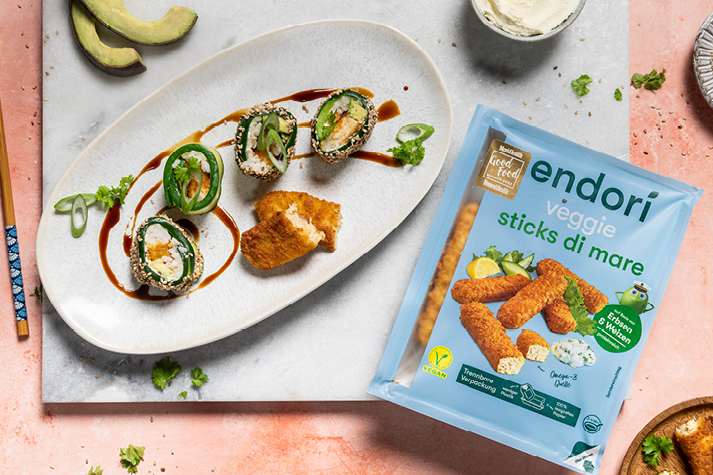 Wash the sushi rice under running water, then prepare according to the package instructions. Leave to cool slightly after cooking. Mix the lukewarm sushi rice with rice vinegar, salt and maple syrup.

Wash the courgettes and remove the ends. Cut the courgettes into approx. 2mm thin slices with a sharp knife. Bring plenty of water to the boil in a saucepan. Bring to the boil, salt lightly and cook the courgette strips in it for 1-2 minutes until soft. Strain and pat dry with kitchen paper.

Halve the avocado, remove one half from the skin and cut into small pieces. Sprinkle the avocado pieces with a little lemon juice. Keep the other half of the avocado covered with a beeswax cloth in the fridge and use it elsewhere.

Heat the oil in a pan and fry the endori veggie sticks di mare in it until golden brown on both sides. Remove from the pan. Then cut each into fifths.

Spread each courgette strip with a little cream cheese. Top each with about 1 tsp of sushi rice, a piece of avocado and a fifth of the sticks di mare and roll up into a sushi.

Spread a thin layer of cream cheese on all sides of the courgette sushi, then roll in sesame seeds.

Before serving, optionally garnish with a little chopped green from a spring onion.
Bon appétit!
All recipes