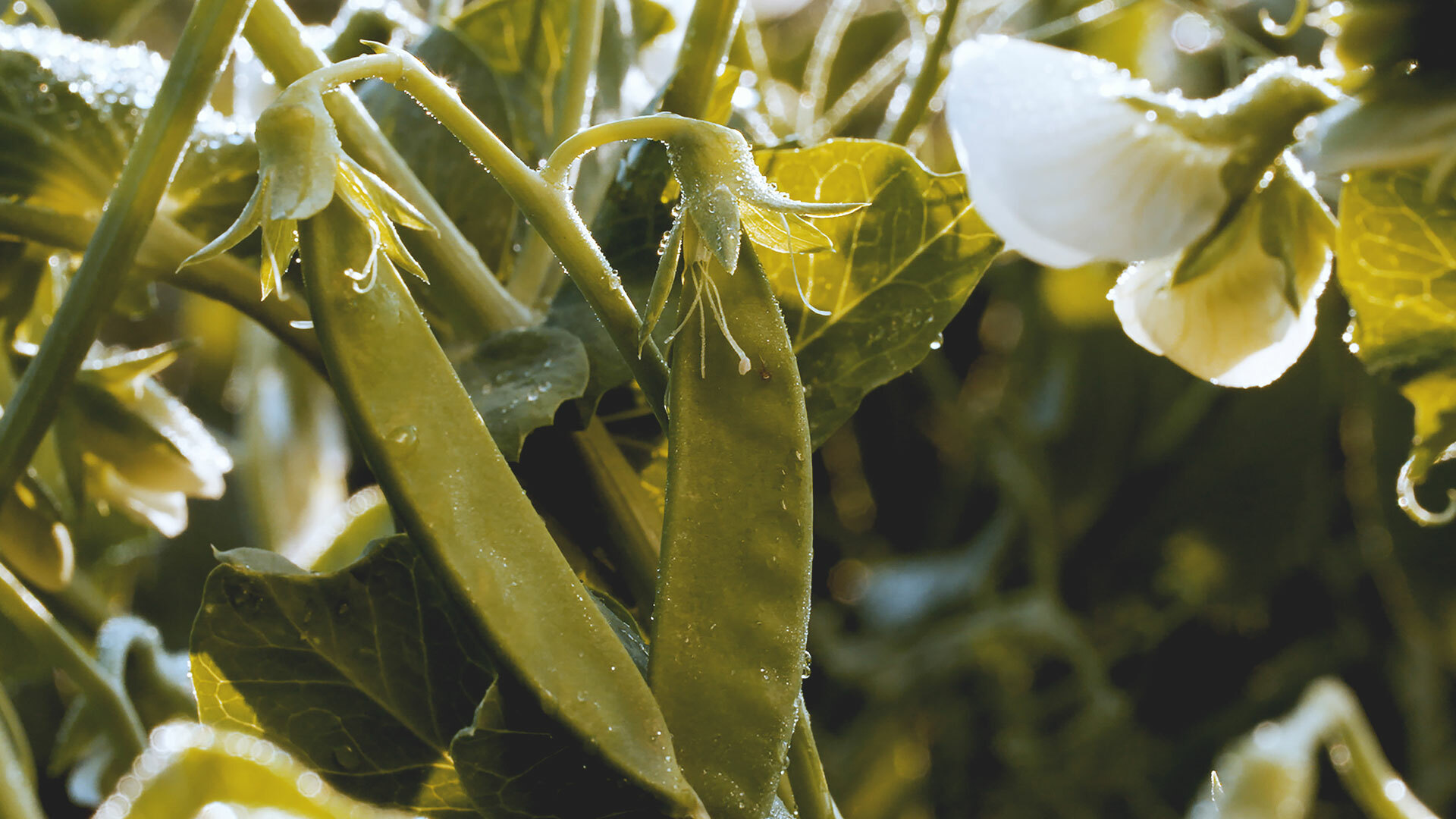 from field to fork
The pea itself is the real protein factory
dear pea, we are not sorry
It's true: the environment, health and taste benefit from the fact that we mainly use peas for our products, but there is someone who is so not happy about it. That's right, the pea. And although the pea won't like that we're telling you all about it and its outstanding properties below, we're going to do it anyway. Sustainability and taste come first. Sorry not sorry.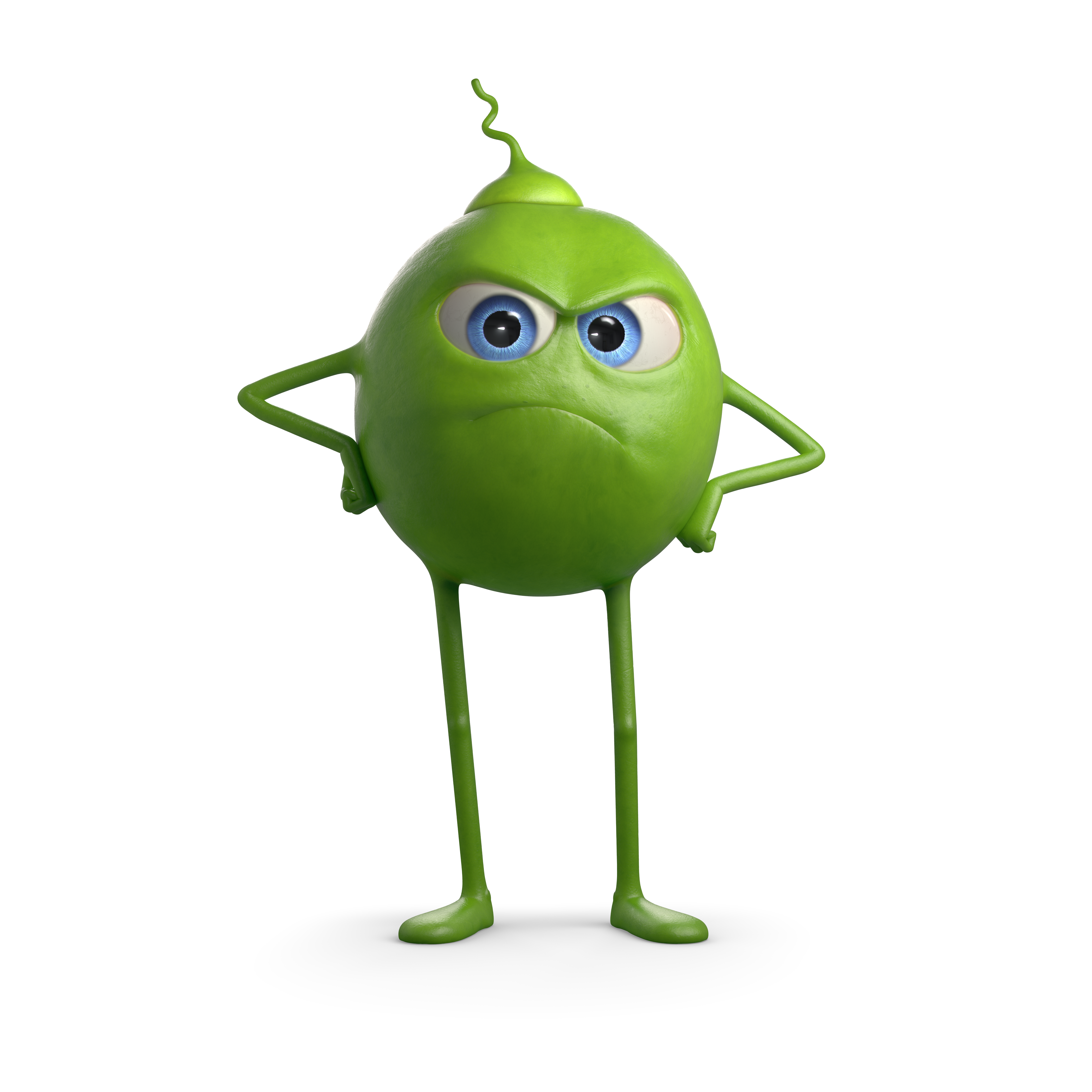 Local raw materials and transparency
valuable plant proteins without soya and without chemicals
Our products are made primarily from peas: all of the energy they contain is developed from one summer's worth of sun, rainwater and the nutrients from the topsoil. That is good for people and good for the planet. Animal production of meat, milk and eggs has a much bigger impact on the environment than the production of any other food product. Meat production is so inefficient and puts such a huge strain on resources that soon there will no longer be sufficient resources to provide well-balanced nutrition for the almost 9 billion people on this planet. The basis for our products is plants grown using a traditional multi-field crop rotation system instead of monocultures.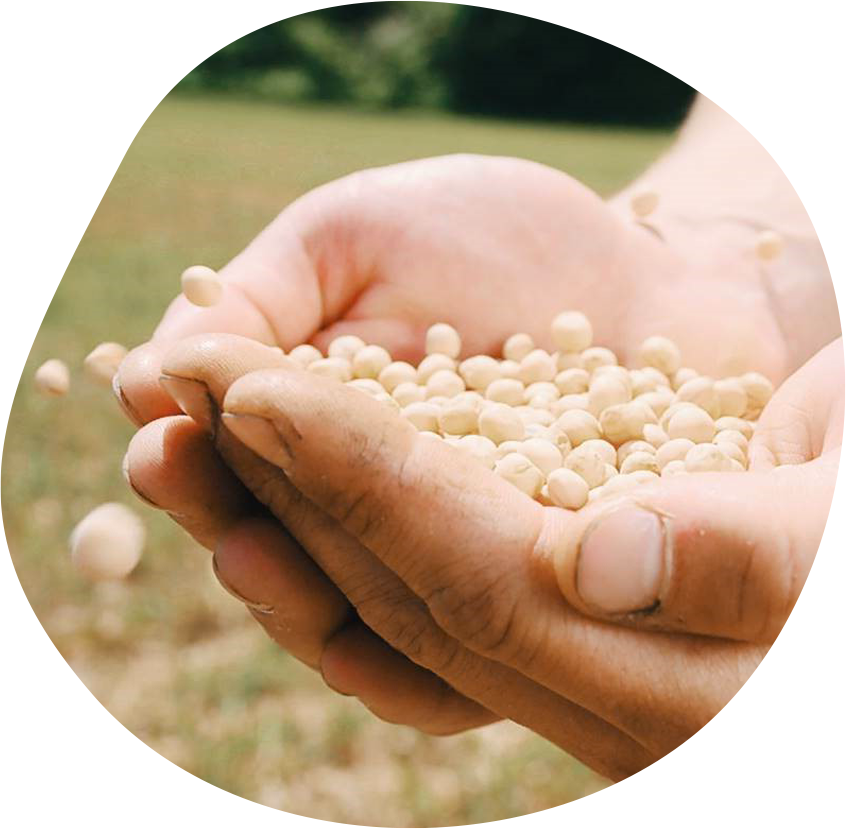 Our peas contain one summer's worth of sun
a queen among the pulses
Our main ingredient is the Astronaute pea. Yellow in colour, these peas are incredibly stable with good natural weed suppression and high grain and raw protein yields. That's why we lovingly refer to the peas we use as our peas, out of respect for one of the planet's most important energy sources. The peas reduce nitrate residue in the soil, thus ensuring better groundwater. The peas increase soil activity, enrich good bacteria in the soil and help to reduce pesticides, in turn helping the bees. All this is what makes the pea a true "environmentalist". What's more, we don't use any soya.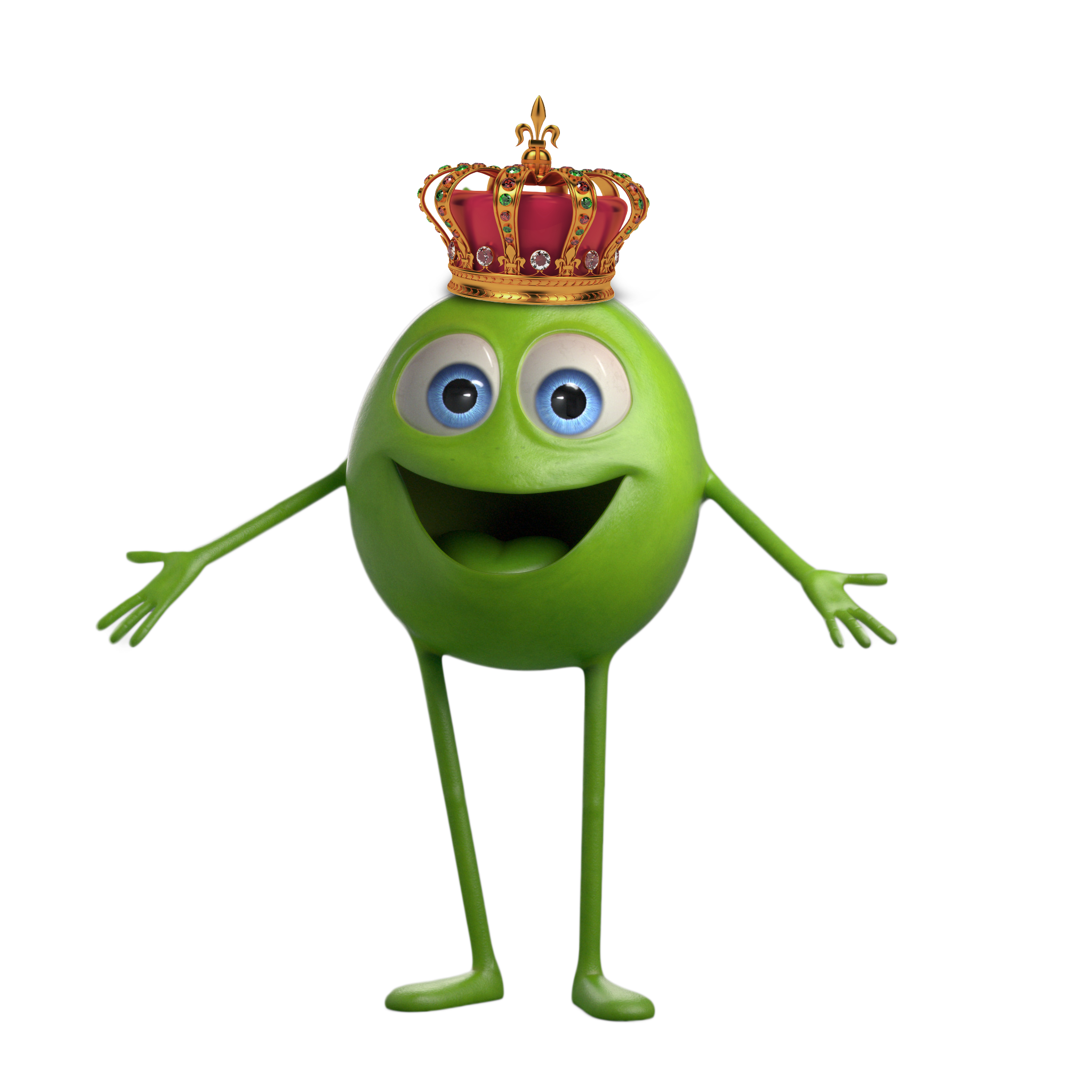 We consider pulses to be an integral part of a sustainable food production process geared towards food security and nutritious food. Pulses are legumes with nitrogen-fixing properties. They help to increase soil fertility and have a positive impact on the environment. The plants don't just turn CO2 from the atmosphere into biomass, they also store nitrogen from the surrounding air in the rhizobia bacteria in their roots. The roots can simply be undercut after harvest, saving nitrogen-rich fertiliser and preserving groundwater.
Local peas
only plant proteins and natural ingredients
endori products are made from water, pea protein isolate, spices, rapeseed oil, gluten-free wholegrain oat flour, pea fibre, potato starch, salt and natural flavours. Our products are free from soya, palm oil and artificial flavours and most of them are non-allergenic.

Our innocent peas are grown in traditional multi-field farming and come from our partner, the Emsland Group. In doing so, we and our partner are in regular exchange with the farmers who grow our peas. Our medium-term goal is to produce our raw materials in organic quality as well. However, this cannot be achieved with the existing organic cultivation areas in Germany alone.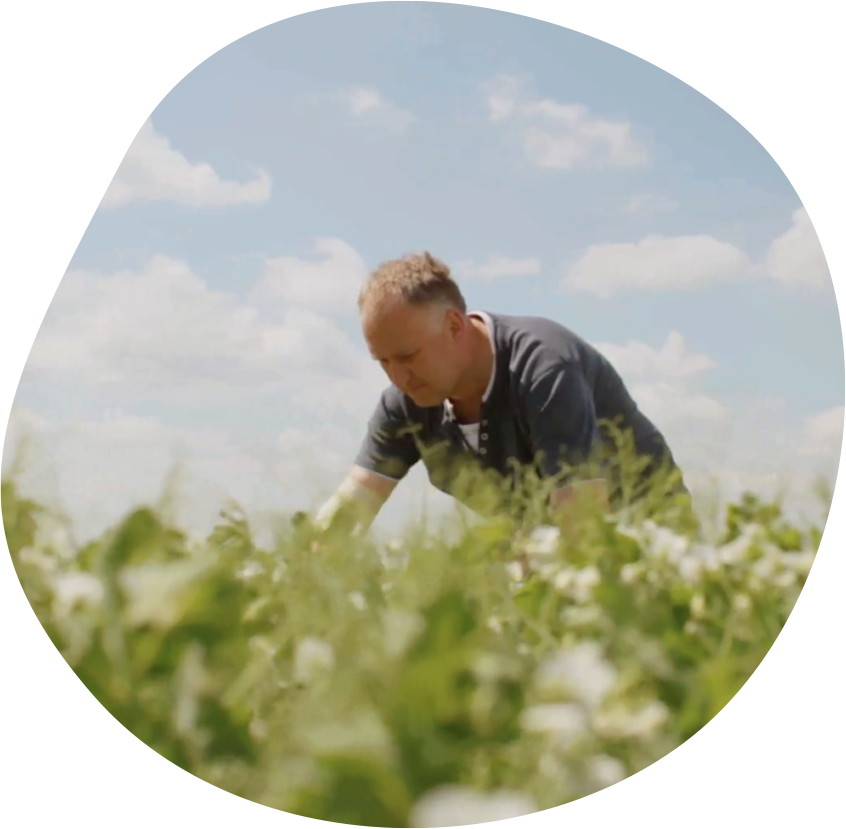 From raw material to final product
physics and biology instead of chemistry
The extraction of protein is a physical process. The pea protein is found in the pea's waters. This water is first pre-treated and heated. The moist protein flakes then emerge from the waters. These are then condensed using a centrifuge, dried and filled. The next stage is known as wet extrusion. This involves combining and mixing the raw materials and then moulding them with heat and pressure. The plant proteins are then cooked and pressed through a downstream chilled nozzle using two worm shafts. This creates the texture similar to meat. This extrusion process is also used for cereals and peanut puffs.
Better packaging
more than 60% less plastic
The sustainable packaging is made from 100% recycled paper and is itself 100% recyclable. Our packaging saves more than two thirds of plastic in comparison to the previous packaging. The paper and plastic can be completely separated.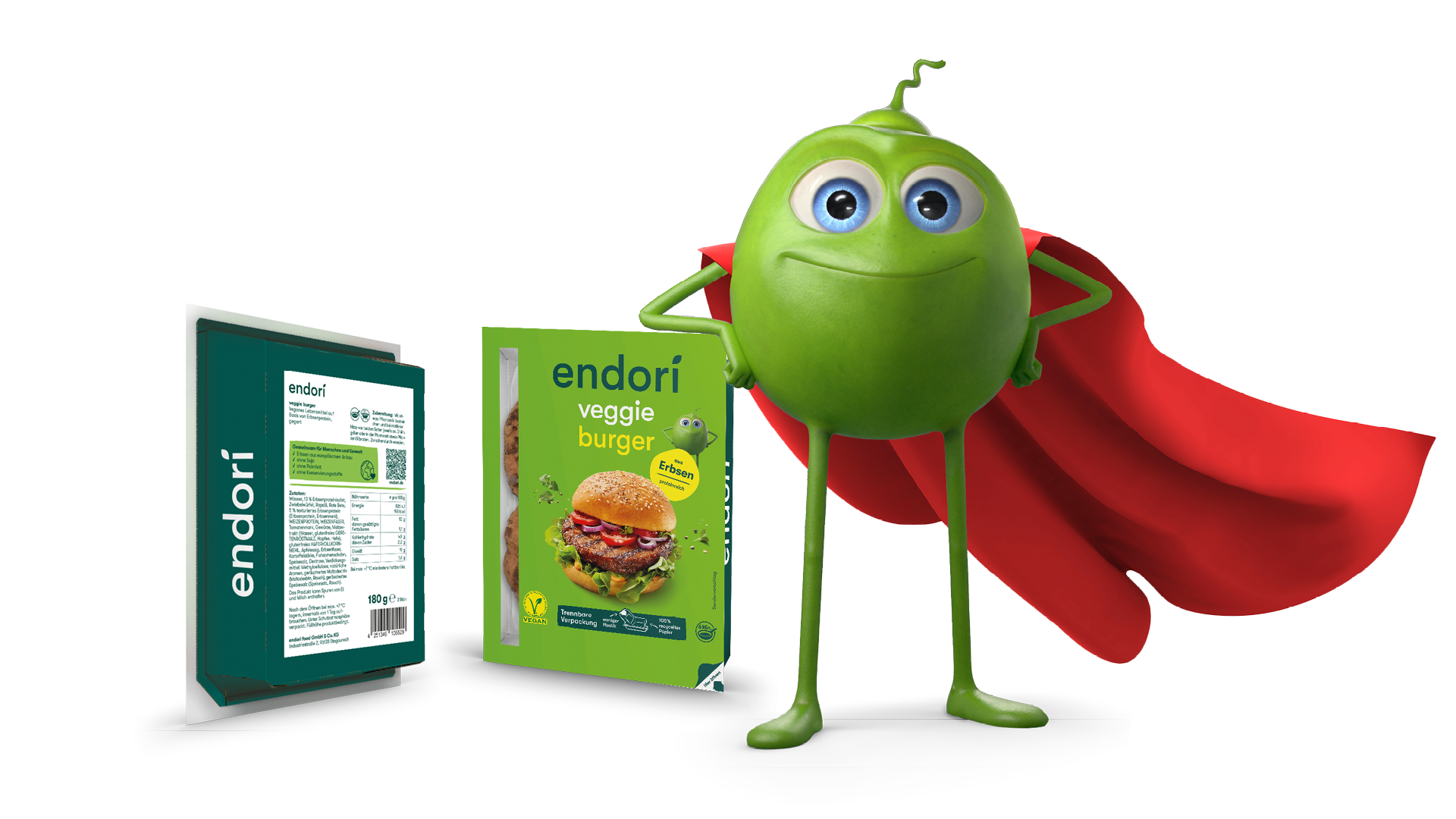 Our goal of constantly improving our sustainability is no walk in the park. It takes hard work and worthwhile investment. Of course, our production also requires power – but we only use power from renewable sources. We use hydropower for all of our sites.
Frequently asked questions
questions and answers
In recent years, we have received a wide array of questions – ranging from topics such as endori itself and our own food products to the challenges facing responsible, global food production and the crucial balance of nature and the environment. Curious? We have compiled the most frequently asked questions for you here. Hopefully this will answer any questions you have. If not – just get in touch!
FAQ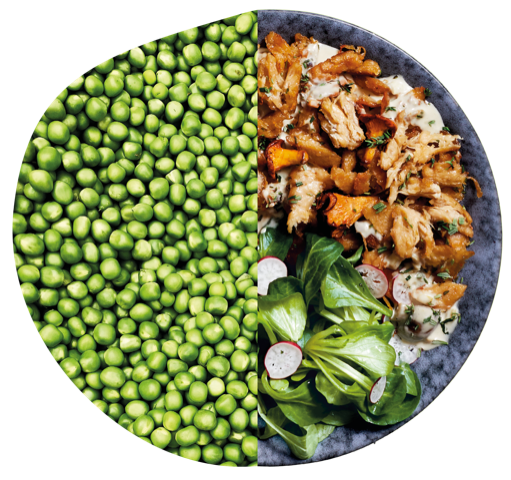 Controlled quality
certified excellence
Our products have earned internationally recognised quality seals and certificates. The European Vegetarian Union V-label, IFS Food seal and EcoVadis Rating allow manufacturers to appropriately label vegetarian and vegan products, certifying their quality and food safety and showing that they have met the relevant product and service standards. These labels are awarded following the relevant audit. Another interesting fact that is not reflected in our labels: we use energy from hydropower. In Stegaurach, we have even recently switched to using regional power from biogas plants.

Strong partnerships
responsible partners side by side
We have strong partners: The Emsland Group is Germany's largest potato starch producer and a leading company in the development of innovative product solutions using renewable raw materials.
The Fraunhofer Institute for Process Engineering and Packaging (IVV) specialises in high-quality food products and secure packaging. Our aim is to use raw materials efficiently and minimise our impact on the environment.
The Pfeifer & Langen Industrie- und Handels-KG is a proprietary company of leading enterprises within the food and beverage industry. The portfolio is characterised by well-known brands, trademarks and a strong position within industrial customer business.